Celebrating 22 Years – Villagers – Best Kept Secret!
Established in 1997 – Step back in time into the old small wood framed building through the front screened porch where you can sit & enjoy your meal as you watch the world go by. Inside, the decor is charming & quite conversational. Tables are made of wooden electrical spools & and walls are covered with anything old. Stop in & experience the quaint & unique atmosphere!
We take pride in serving you the best & freshest food in Acadiana. Our menu is somewhat large, but our kitchen & staff are not. As in life, anything worth having is worth waiting for. So whether you're a regular or just in town visiting were glad you're here. Enjoy what the best kept secret is!
MaryBeth Broussard
Villager's Owner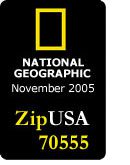 National Geographic – November 2005
Virtually all commercial activity in Maurice is on Highway 167 – two other bars and three restaurants, one of which, a poor-boy shop called Villager's Cafe, serves fried potatoes for which I would risk a costly encounter with Officer Marvin Menard any day of the week.
Natioanl Geographic writer,
Calvin Trillan

Times Acadiana 2008 said,
"Heaven between the slices"
La Gazette Des 't Villages
July 27, 2005
Villager's Cafe in Maurice offers inviting menu
"We overload them!" said Broussard, talking about her poor-boys. "We pack it in!" When asked what people ordered the most, she laughed, "All of it is good!"
Hours are long for this female entrepreneur extraordinaire. How does she do it? "I like to have control over everything. It takes hard work and keeping the customers happy!" she says. When I begged her for her secret to success, she cautioned, "I want it to be about the food–they come for my food. It's the core of my business."
Abbeville Meridional
October 2004
Risk lends success for cafe owner
Febrauary 2004
Vermillion Parish Business of the Day